DRYWALL, PLASTER
REPAIR and NEW WORK
Damaged drywall and plaster repairs due to roof or bathroom leaks, plumber's work or rough use by teenagers.

I have a client managing multiple properties that calls me in to open holes in the walls and/or ceiling to locate leaks for him. This leaves easier, and fewer, patches than when a plumber comes in looking for a leak with a hammer.

I also install new drywall on small jobs that are too small for contractors running a crew.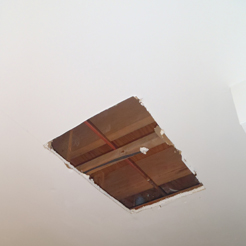 Hole Made for Pipe Repair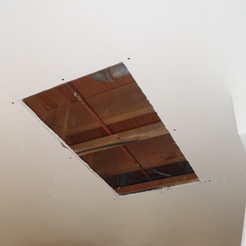 Hole Square for Patch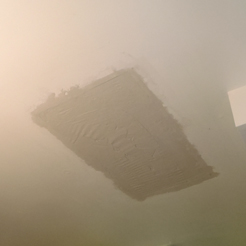 Drywall Patch With
First 2 Coats of Plaster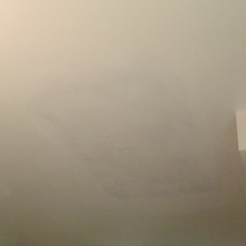 Final Patch Primed For Paint
Samples Jobs:
JM- Repeat Client; repair approximately 3.75 SF of drywall ceiling after plumber's repairs. ($279)

DR- patch and paint 8x10 hole, caused by roof leak, in 3rd floor bath ceiling. ($242).

PH- Repeat Client; water damaged ceiling and damaged mildewed wall paper repair. Remove ceiling down to joist, remove wall paper. Remove fixtures and equipment to access walls. Coordinate with plumber to replace leaking stop valves. Replace ceiling, repair walls, clean and sand for paint. Paint 1/2 bath walls and ceiling. ($1746)

PH- Prop. Mgr.; Repeat Client; locate source of damage in bathroom ceiling coming from multiple leaks in upstairs plumbing. ($210)

LR- Repeat Client; repair substantial moisture damaged plaster walls and ceiling in living room, dressing room, bathroom and paint. ($1928)

PH- Prop. Mgr.; Repeat Client; repair water damage to ceiling and walls from leaking fan coil unit upstairs. ($584)

PH- Prop. Mgr.; Repeat Client; locate source of water in basement carpet. Open ceiling for plumber to have access, patch and paint interior ceiling, patch and paint corridor wall. ($827)

JM- Repeat Client; repair approximately 250 SF of multiple locations of water damaged drywall ceiling. ($1343)

PH- Prop. Mgr.; Repeat Client; locate source of water in basement corridor carpet. 5 potential sources. Open wall for plumber to have access, and oversee plumber's repair, patch and paint interior walls and ceiling and secure warped hallway baseboard. ($941)

P- Repeat Client; repair 14 SF of water damage, 1/4" out of level, plaster and plaster board, obstructed by ceiling and wall corners and adjacent window trim and requiring reframing and refinishing wood fan coil unit pipe chase. ($1042)

P- Repeat Client; repair water damage to "wall papered" bathroom ceiling ($1066.72)

J- Repeat Client; repair water damaged drywall ceiling. ($173.55)